IngrownOut®️ Gold Tweezer
Experience the exceptional design of our IngrownOut® tweezer, meticulously crafted by renowned expert Sarah Louisa, who specialises in removing ingrown hairs. This tweezer is equipped with a unique hook that perfectly fits into open hair follicles, ensuring no damage is caused to the surrounding skin. Say goodbye to pointy tweezers that can harm your skin. With IngrownOut®, you have the correct grooming tool designed specifically for the job.
Not only is the...
Recommend a friend
---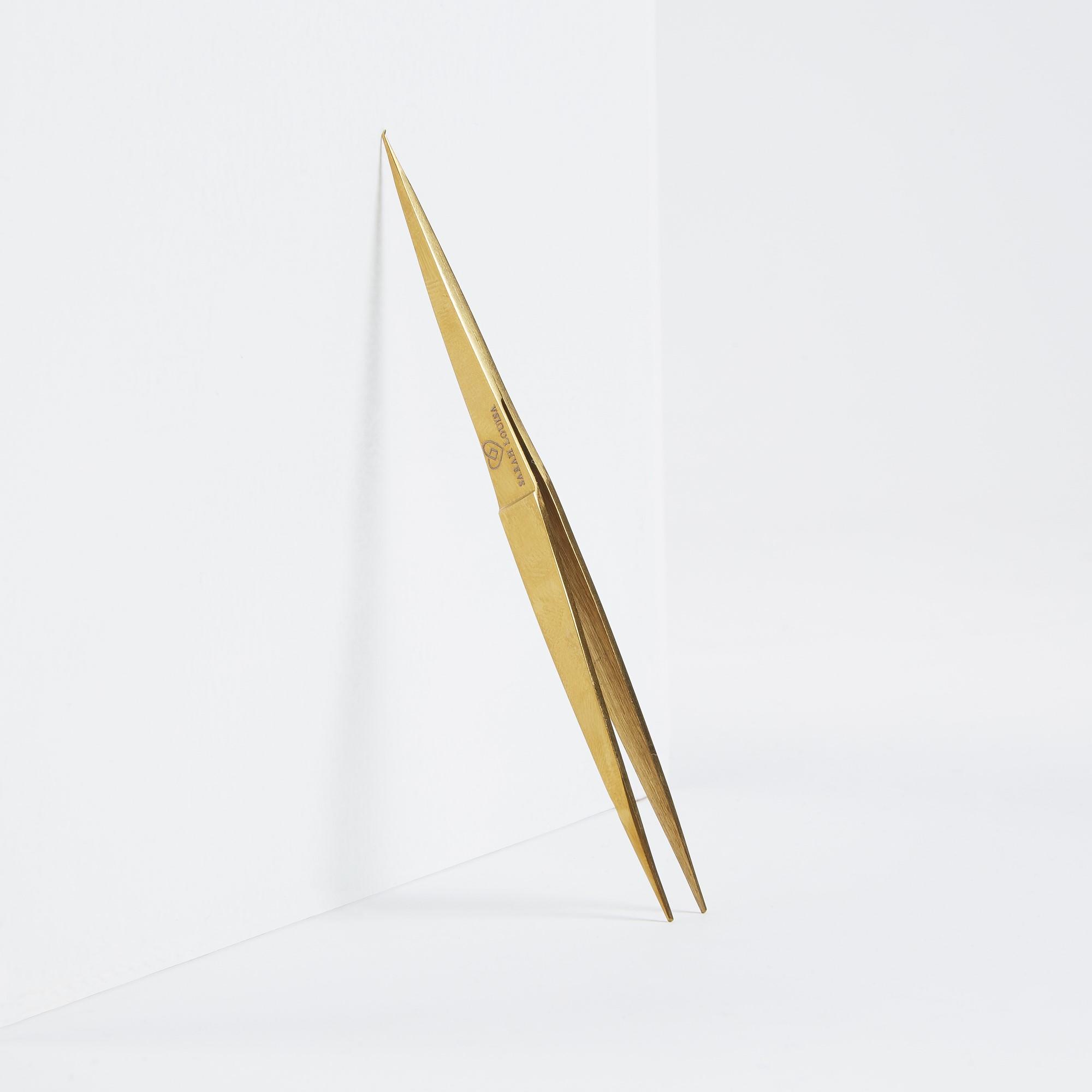 IngrownOut®️ Gold Tweezer
---
Experience the exceptional design of our IngrownOut® tweezer, meticulously crafted by renowned expert Sarah Louisa, who specialises in removing ingrown hairs. This tweezer is equipped with a unique hook that perfectly fits into open hair follicles, ensuring no damage is caused to the surrounding skin. Say goodbye to pointy tweezers that can harm your skin. With IngrownOut®, you have the correct grooming tool designed specifically for the job.
Not only is the IngrownOut® tweezer trusted by waxing experts, but it is also suitable for waxing clients to use at home. By utilising these tweezers, you can prevent the temptation to pick at ingrown hairs, which can lead to bruising, infection, and even skin scarring. Our tweezer provides a safe and effective solution for addressing ingrown hairs, whether you're a professional or grooming enthusiast or just like to look after your skin.
Careful attention was given to the design of the other end of the tweezer to ensure it meets the highest standards. This allows you to tweeze out hairs from the root with precision and ease. The IngrownOut® tweezer truly offers a two-in-one grooming tool for those who value excellence.
Combine the outstanding performance of our IngrownOut® tweezer with our comprehensive range of skincare products to maintain clear, healthy-looking skin between ingrown hair treatments. Experience the transformative power of our all natural ingredient products and unlock the secret to radiant, groomed skin.
For personalised advice or further information, our expert, Sarah Louisa, is available to provide guidance and address any specific concerns you may have. Feel free to reach out to her at info@sarahlouisa.co.uk.
Trust in the quality, effectiveness, and convenience of IngrownOut®. Elevate your grooming routine with our exceptional tweezer, designed to meet the needs of professionals and enthusiasts alike.
Reviews
Title: A Fantastic Ingrown Hair Tweezer Rating: ★★★★★ Review: I am absolutely in love with this ingrown hair tweezer! It has become an essential tool in my salon, and I even recommend it to my waxing students. The sleek design is visually appealing, and its functionality is top-notch. Using this tweezer is a breeze. The ergonomic design fits perfectly in my hand, allowing for precise control and easy maneuverability. It's effortless to target and remove ingrown hairs with accuracy. What impresses me most is the excellent quality of this tweezer. The materials used are of great durability, ensuring it will withstand frequent use in a professional setting. I appreciate that it is designed to be gentle on the skin, preventing any damage or irritation during the hair removal process. The efficiency of this tweezer is outstanding. It swiftly grasps and removes ingrown hairs within seconds, saving both time and discomfort for my clients. It's a reliable tool that consistently delivers fantastic results. Overall, I cannot recommend this ingrown hair tweezer enough. Its sleek design, ease of use, and remarkable quality make it a winner in my book. Whether you're a professional or someone dealing with ingrown hairs at home, this tweezer is a game-changer. Don't hesitate to give it a try—you won't be disappointed!
" As a professional waxer the IngrownOut tweezers are a must have! They are hands down the best tweezers for removing ingrown hairs "
I have loved using these tweezers today, fabulous!
brilliant, never had better and will re-order! MANY THANKS:)
I LOVE your tweezer! I can scoop out ingrown hairs without damaging clients skin! The hook angle is exquisite, also could catch the hairs brilliantly! I introduced your tweezer to my boss, first, she wasn't sure why I love it so much but finally she fell in love too. She recently purchased 4 of them for herself! Appreciate your excellent work!!
I am very pleased with the Golden IngrownOut Tweezer . Over the years I have bought many tweezers and used them. However this Golden IngrownOut tweezer is the best . I use it everyday as a tool to groom my body . It's excellent, I do not go anywhere without it . I even travel with it on my holidays. To be honest it's more than a IngrownOut tweezer .
"The ingrownout tweezer is a complete game changer, I specialise in intimate waxing and struggled to find a tweezer that I would get ingrowns out with for years, then I found these recommended by another wax therapist. Honestly best by far, highly recommend
I have previously purchased the ingrown hair tweezers from you guys and I wanted another pair. Your tweezers are awesome I'm a licensed esthetician and my most popular service is Brazilian waxing. I use your tweezers almost everyday. They make getting those ingrowns out super easy. Thanks again.
These Tweezers are amazing!!!!
Used these tweezers in a salon where I work two days each week and love them so much I bought a pair for my own salon - they are exceptional quality and the best tweezers I have ever used for ingrown hair removal. Anyone who provides waxing services should invest in a pair.
Fab course and Tweezer! Highly recommend.
5 STARS Every professional waxer should have these tweezers!
Bought my first pair of Sarah Louisa tweezers, and buying a second! I would highly recommend to all waxers as they are such a boon to help retrieve those pesky ingrown hairs as well as a great grip for little short ones too. Thankyou
My wife loves picking at my ingrown hairs. I am so relived she has your tweezers as it was so painful and uncomfortable before. I suffer with Ingrown hairs on my shoulders and neck. Your site has really help me. Many thanks
Amazing Tweezers best I've ever used!
Thankyou sarah louisa I love my new tweezers. Your advice has really helped me!
I've had ingrown hairs since i was a teenager. They make my skin feel dirty and made me so sad. Since using the tweezers i have stopped picking and scarring my skin. I wish i found this website much sooner. The tweezers are really good.
I suffered for years with ingrown hairs across my knees and bikini area. It was so embarrassing. Sarah Louisa would remove my ingrown hairs with her magic tweezers. My ingrown hair problems never came back. The service I received was excellent and the ingrown out tweezers are fabulous. I would highly recommend sarahlouisa.co.uk
Sara is a hero, tweezers sorted the in growing hairs and I am now less conscious of the skin on my chest and back and will hit the beach. Would recommend sarahlouisa.co.uk Raj
Hi Sarah! I've just removed my first ingrown hair with your amazing tool! It had an open follicle and just popped out ❤️ Thank you
I had all my draws out last night looking for my tweezers they have literally disappeared so back using old crap ones lol . I've just ordered another pair! I love them they are literally amazing!
These are fantastic. They're worth every penny. Thank you Sarah for mine x
I really like the fact there is no plastic packaging. I like having a special pair of gold tweezers. My friend bought them for my birthday. I haven't had an ingrown hair for a while so haven't used the hook but love these for doing my eyebrows. Yes i would recommend these tweezers.
Great Tweezers. Have bought another pair encase they go missing. I absolutely love them.
I was recommended to sarahlouisa.co.uk. I was sick of using chemical ointments to clear ingrown hairs. This left my skin so dry and flaky. After reading and understanding the Ingrown hair advice on this site, it helped me to start preventing my ingrown hairs from happening. The IngrownOut tweezer is amazing this helped me clear my skin from ingrown hairs. Thankyou as my confidence is coming back.
Thankyou for the advice Sarah Louisa. I managed to clear my ingrown hairs. These tweezers are amazing. I feel more confident now and use my ingrownout tweezers every other day they are a huge part of my self care routine.
Would recommend these tweezers. The only thing is my daughter keeps using them so will be back to buy her some for her birthday.
My Ingrownout tweezers are the best! I have had them now for over 6 months and they still remove my short chin hairs. Other branded tweezers could not grasp after a while of using them. This would let me down so many timess. I have been testing tweezers for over 15 years. Since going through the menopause. I have had more facial hair appear and i dont want to wait until my hair is long enough to pluck out. Finally a pair of tweezers that have lasted and still work the same as when i bought them. Thankyou Sarah Louisa for creating these Ingrownout tweezers. They continue to grasp even the shortest of hairs. Kind regards Sharon Conway a very happy customer
Love my new IngrownOut tweezer! Im addicted to them to be honest! Easy and fast to use. Would highly recommend.
My girlfriend bought me these Ingrownout tweezers. She asked me to leave you a review. I have to say they are very good. Most of my friends have ingrown hairs so will be recommending. Like that the tweezers have a carry pouch for when i work away!
Best tweezers i have ever used! Highly recommend sarahlouisa.co.uk. I really liked the advice for ingrown hairs.
I have been looking for the perfect tweezer for years. After using many tweezers that didn't do the simple job of plucking my hairs out (was so frustrating at times) I also really like that this is a two in one tool. My husband suffers with ingrown hairs so i'm constantly removing them for him. Now i have a professional pair of ingrownout tweezers i actually enjoy doing this now as it isn't as stress full as it was with the pointy ingrown hair tweezers.
Gets a thumbs up from me. No plastic packaging bonus!
Highly recommend using the Ingrownout tweezer. It is so useful for plucking tiny hairs that i would struggle to grab with my other tweezers.
I love grooming gadgets. As soon as I seen these tweezers on SarahLouisa.Co.uk I knew I had to have them. I get the odd ingrown hair on my neck but mainly on my chest. I find I don't have cuts after like with other pointy tweezers I've used. The hook really makes a difference. These are bang on. Highly recommend.
I would recommend these tweezers. My last pair were tweezerman. I paid a lot more for them. They were rubbish so hard to grip the hair. I will be recommending IngrownOut to all my friends. Best ever tweezer!
IngrownOut tweezers has saved my skin! I was always picking and squeezing at my ingrown hairs. These tweezers work so fast flicking the hair out. It saves me so much time now : )
I love my new grooming tool! My friend bought me these for my birthday and they are fabulous!
I recommend the IngrownOut tweezers. I find them to be the easiest tweezers I have ever used.
Wow! What a product.. just amazing! I received them today in their perfect packaging and removed ingrown hairs effortlessly and painlessly! I will be using these professionally too within my salon and providing all of my beauticians with them. Must have for beauty professionals & people that suffer with ingrown hairs - super easy to use
These tweezers are amazing. They make removing any ingrown hairs so easy! The little hook end is perfect at lifting the hair first, without damaging the skin. The tweezer part just does so well at grabbing the hair and removing it. With other tweezers I've used the hair doesn't pull out as well. Would highly recommend this product, it's fantastic and makes removing ingrowns so easy.
Well!! What can I say about this amazing products. I do not get any ingrowns no more. They are the best things I've ever purchased. Not to mention the waxing treatments. I don't go anywhere else. I travel like an hour to have the perfect bikini. It says what it is perfect bikini. 5 out of 5 from me. Thanks so much and never stop what you do.. xx
This is a fantastic product and have never found it so easy to get out ingrown hairs. The hooked end just gets the hair straight out and doesn't make the skin or area around it sore. My husband has also started to use it to get the hairs out of his chin. 100% recommend this to anyone
The benefits of this double sided tweezer are great and very useful! None are designed for the multi purpose like this! We all need tweezers in our life but this specific one helps remove ingrown hairs and splinters etc efficiently and pain free without disrupting the skin and massive relief results.Definitely recommend to men and women!!
This is again another Fantastic design by the great Sarah Louisa! The benefit of being able to remove tough ingrown hairs easily without disturbing the skin is underestimated and a massive relief! This two in one tweezer provides the best of both! Highly recommend.
I recently purchased this item and found very easy to use on ingrown hairs . The curvature on the end enabled me to pull the hair through to enable removal. Providing you use it carefully and not go in for the "kill" made the whole experience really quite easy. Would thoroughly recommend.
I have to get my own ingrown tweezers as my wife says I use it more than her. It is excellent for removing stubborn hair in and around face. I found when I slanted the tweezers it catches the hair better and when I pulled it I had no pain. It can do more then just plucking hair it is excellent for cleaning plaque from your teeth as well.
I have found this a very useful tool to have in my makeup bag. It is excellent to get the stubborn hair out with little effort. Ingrown hair can be very painful but once you start using this all the problems and pain goes.
Love these tweezers! For so long I've struggled to find tweezers that will grip very short hairs but these do just that quickly and easily without disturbing the skin. The tiny hooked end is just perfect for lifting any hair that is just under the skin and again it does the job easily without scratching the skin. The only problem with these tweezers is that they will also be loved by the gentlemen in your home and will disappear from your side of the bathroom to theirs... so would also be a great present for the man who has everything
I've been going to Sarah for years for beauty treatments. When she showed me these tweezers thought I'd try as get loads ingrown hairs you know us women chin eyes etc it's like a magic tool hook on the end just gentle pulls out without any scarring and you get that awkward hair you can feel. Comes in lovely little case to fit in handbag. I just love it. Don't miss out. Great Mother's Day gift
My wife got these tweezers for me due to me having some ingrown hairs in my beard area. They are very efficient at removing the ingrown hairs but also the tweezer actually grips the hair really well too if you needed to pluck. Sounds normal right but most tweezers I have used never seem to be able to actually hold on to the beard hair to pluck it. The funny thing is that the hooked end is so much more useful than just this. When doing DIY I had some wood splitter right up inside my nail and if I couldn't get to it straight away with these tweezers then it would have swelled and I would have needed to go to hospital. In addition I cracked my tooth during lockdown and the dentist could not do fillings due to the risk of infection so it's been really hard to ensure that the crack is kept clean and clear of food and these are so perfect for that too. It's like an all in one super tool for many things in my experience, can't recommend enough.
Leave a review
Shop
Customers also Bought